A Bible that was written
400 years after Jesus
(allayhis salaam) is the world's oldest bible (the 'codex sinaiticus'). Four hundred years is a really really long time..
So where's the original from the time of Jesus
?
I can't begin to imagine the amount of versions it went through in those 4 centuries. No wonder most of them went astray.
Quote:
World's Oldest Christian Bible Goes Digital

Jeff Bertolucci, PC World
<script type="text/javascript">timestamp(1246915680000,'longDateTime' )</script>Jul 6, 2009 5:28 pm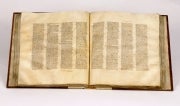 Time is never kind to paper manuscripts, particular those written more than 1600 years ago. Some 800 pages remain of the Codex Sinaiticus, a version of the Christian Bible written in the fourth century, and the original text is thought to be nearly twice as long. Historians believe the book may be world's oldest Christian Bible. Studying the original text has proven challenging, however, as sections of the work are scattered in four locations around the globe.

But thanks to today's online publication of the Codex Sinaiticus, scholars can examine the entire book from the comfort of their desks. Curious? You can explore the document yourself. Stephen Bates of The Guardian explains the significance of the online edition:


". . . so sophisticated is modern technology that scholars will not only be able to read the document on their screens using a standard light setting, but also separately by a raking illumination that highlights the texture and features of the very parchment on which the 800 surviving pages of text were written."


It's fair to say the online edition of Codex Sinaiticus won't have mainstream appeal. But the project does illustrate the power of the Internet to advance educational pursuits. We'll likely see similar efforts in the future for other historical documents.

http://www.pcworld.com/article/16793...s_digital.html